Years 7/8
Emmaus College offers an enriching and nurturing environment for our Middle House students. It actively supports our young students throughout their early secondary school years providing them with opportunities to confidently journey throughout their time at the College. The extensive academic program allows our Middle House students to experience the versatility of learning.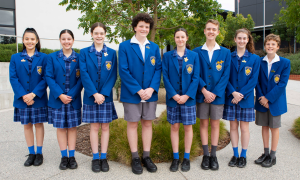 Middle House at Emmaus College uses the vertical system of Pastoral Care. Each student who enters Emmaus College at Year 7 will work under the guidance of their Pastoral Teacher and their HouseLeader. The pastoral group comprises Year 7 and 8 students who remain with their Pastoral Teacher for two years. This allows for solid foundations to be set and to foster positive relationships and support throughout the Middle House years. Our Transition Program enables House Leaders to work with Primary Schools in implementing strategies that will assist with a smooth introduction into secondary school.
Emmaus College understands that Year 7 may be a challenging year for our new students to the College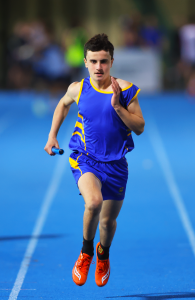 especially when faced with a completely new and unfamiliar environment. Under the supervision of many dedicated teachers, the annual camp to Rawson early in Term 1 allows students to form friendships with students from other Houses. It is during this camp that the House spirit is developed, friendships forged and continued through their school years. Our Peer Support Program connects our Year 10 students with Year 7s, acting as mentors, whilst introducing them to life and community at Emmaus College.
Participation in EISM sports allows our Middle House students to display their skills and talents in various sports whilst competing with other Catholic and Independent schools within the eastern region. Buddy activities implemented once every term sees our Middle House and Senior House students come together and participate in a structured program of activities. This connection reinforces and consolidates the community and House spirit at the College.
Middle House sets the foundation for an optimal learning experience throughout a student's academic life at Emmaus College.
Year 9
The Middle House years continue into Year 9, where the students experience their own campus located at Burwood. The unique Y9@E program offers students an innovative, integrated and engaging curriculum that prepares them for their senior years at Emmaus and beyond.  Click here for more information about Y9@E.
Year 10, 11, 12
The senior years at Emmaus College present students with many opportunities as they move into a focused and rigorous approach to their studies. For many, Year 10 is the beginning of their VCE as they take up a Unit One area of study in a preferred subject. The teachers at the senior level are aware of the significant shift in engagement that students need to make to stay abreast of their studies and are there to guide and mentor all students in this transition.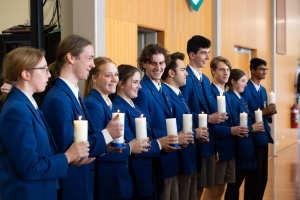 Our House based vertical pastoral care structure encourages a sense of belonging to one's House whilst fostering a sense of identity within the Emmaus community as a whole. The Year 12 Retreat at the beginning of the school year presents students and their pastoral teachers with a wonderful opportunity to deepen relationships, share their stories and enter into a spiritual focus in a trusted environment. Emmaus Day and Sports Carnivals provide a venue for a healthy rivalry between the Houses with students, guided by School Captains, House Captains, Committee Captains, Committee members and the SRC, energetically embracing the competitive nature of these events.
The senior years offer students the opportunities to engage in optional travel opportunities to Central Australia, USA and Europe (biannually/triannually) and the possibility of exchange programs to Indonesia, Italy and Germany to enhance their language skills.
Senior students are encouraged to apply for the many leadership positions that are available at Emmaus.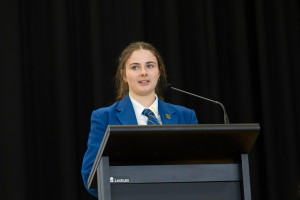 They can nominate for membership on the many committees – Liturgy, Wellbeing, Arts, Academic, FIRE Carrier and Social Justice, or School Captain, Vice–Captain or the four House Captain positions. All positions serve to strengthen a student's organizational, communication and people skills in readiness for life outside their formal secondary school years.
Senior students also come together each year to attend the many occasions on the social calendar. There is the Year 10 Social and the Year 12 Formal held each year, organized by a student committee and overseen by House Leaders. They are always much anticipated and a great success. The Year 11 students participate in the Debutante Ball each year and enter into this very formal occasion with enthusiasm and maturity. It provides a unique experience they will remember later in life.
The senior years at Emmaus College provide a nurturing yet challenging environment in which all students have the opportunity to develop into focused, caring and mature young men and women.