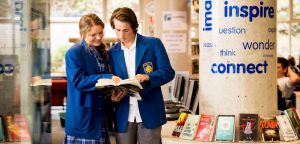 The Emmaus College Library Learning Hub provides the students and staff with a wide range of resources catering to various interests and study requirements in accordance with the Australian curriculum. Assistance is also given to research classes, aiding in the enhancement of information skills, private study and individual learning needs.
The students have access to 36 desktop computers, two research areas and a relaxing space for leisure reading. Resources available include magazines, newspapers, graphic novels, fiction, nonfiction, board games and audio visual equipment. All Library staff are committed to promoting and encouraging reading and produce a number of visual aids to help students with novel selections.
A number of digital services are available through the Library's catalogue these include Weblinks (live links to websites), Overdrive eBooks for fiction, Worldbook eBooks for nonfiction and TV4Ed for all broadcast programs including current affairs, movies and documentaries.
The Library also subscribes to several databases which are accessible throughout the school and also from home via the College intranet portal. These include Newsbank, ECHO (Media issues) as well as Worldbook online.
Various clubs are run periodically from the Library in line with student interests and demand; currently we have a very popular chess club. The Library also facilitates areas that are utilised for English help and guided study for VCE students.
The Library opens at 7:45 and closes at 16:30 Monday to Friday.
For more information please contact Susanne Graetsch.