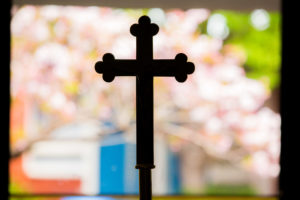 Emmaus College's vision is deeply grounded in Luke's Gospel (24: 13-35).
Our School Motto: To Know Christ
College Vision:  To foster a community that nurtures the full flourishing of each learner, inspiring excellence as they come 'To Know Christ' on their own road to Emmaus
College Mission: Emmaus College, as a Christ centred Community, has fundamentally at the heart of its spirituality, the person of Jesus Christ. The story of the Walk to Emmaus in the Gospel of Luke and from which the College is named, nourishes our spirituality. Students are encouraged to live by the key core values of faith, community, respect, excellence, integrity and service and to empower them to achieve their best academically. Emmaus aims to ensure that learners acquire and utilise the knowledge and skills to be future ready. Our mission as a Christ-centred community, provides a caring and supportive environment that enables students to develop their full potential in all areas of life. Pastoral care is a key focus of the College, and promotes and enhances student wellbeing of a personal, social, physical, emotional, cognitive and spiritual nature.
Were not our hearts burning within us while he was talking to us on the road, while he was opening the scriptures to us?  Luke 24: 32
Our relationship with God through Jesus is not a lone journey but one that is nourished and deepened through belonging to the community of faith, the Catholic Church.
The School encourages students to live by the key core values of faith, community, respect, excellence, integrity and service.
We aspire that our Graduates are compassionate, curious, faith-filled, independent, resilient and creative.
The four Houses: Chavoin, Colin, More and Rice supplement the spiritualty of the College. These Houses call to mind the charisms of their namesakes, encouraging the members of the House to explore how they too can live their Christian calling.
Emmaus College is proud to be a co-educational Catholic school, and we strongly believe that co-education has clear benefits for the vast majority of students. For the contemporary society in which we live, it makes perfect sense for young people to be together in a co-educational environment during their formative teenage to young adult years. We believe that this then best prepares students for life.
Emmaus College aims to ensure that students are able to acquire the skills necessary for 21st Century learning, especially the four C's: Critical Thinking Skills, Communication, Collaboration and Creativity. These skills will enable students to be flexible in their problem solving methodology, have enhanced thinking abilities and a collaborative attitude to communication skills. Students need to develop these skills alongside the foundations of literacy and numeracy.
Well-being is the total climate of pastoral care arising out of the action taken by the College to promote and enhance student well-being of a personal, social, physical, emotional, mental and spiritual nature. Key elements of student wellbeing are positive self-regard, respect for others, positive relationships, responsible behaviours, personal resilience and engagement with learning.
Australian Democratic Principles Statement
Download