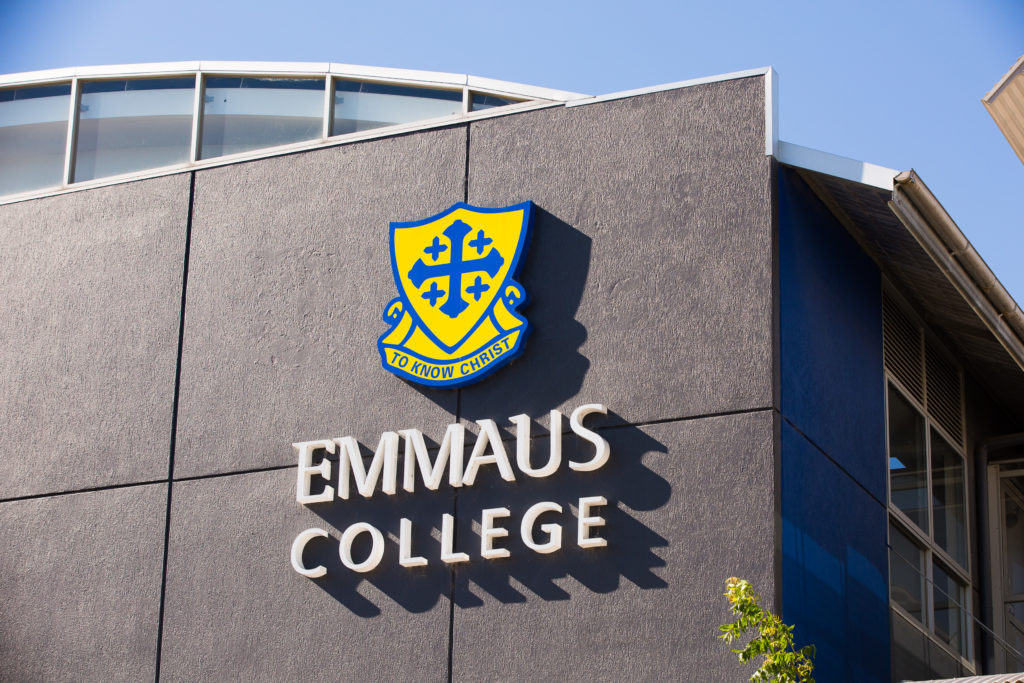 Emmaus College staff must be committed to the ethos of the College, professional and focused on their approach to teaching and learning, and have a genuine interest in working with secondary school age students.
Our employment policy has been developed in the light of Emmaus College's Mission Statement, in which we seek to live by and teach values upheld by the Catholic Church while also celebrating our Catholic identity.
Being a staff member at Emmaus College means membership of a vibrant, diverse and large school community with a continued focus on self, student and school improvement. Collegial support, respectful students and excellent physical facilities make Emmaus a workplace of choice for our staff.
Staff are supported in their Professional Learning through school-based and external PL opportunities. The College Board supports staff financially who are involved in relevant further studies.
Teaching staff are supplied with a school-owned tablet computer as part of their employment conditions.
Employment Collection Notice
Download
Expectations of all POL Positions at Emmaus College
Download
Expectations of all Staff at Emmaus College
Download
---
CURRENT VACANCIES
Food Technology & Science Teacher (Year 7)
Applications are invited from suitably experienced and qualified candidates for this part time role.
This is a maternity leave position commencing in Term 2 2021 for the remainder of the year with an 0.40 FTE (2 days a week) at our Vermont South Campus.
Applications close Monday, 22 March 2021
Learning Assistant
Emmaus College is committed to providing an education that is inclusive and supports each student to achieve their potential. The College recognises that some students require additional assistance to do this. The Learning Assistant reports to the Learning Diversity Leader. The role of a Learning Assistant is to provide support to individual students/groups under the direction of the subject teacher and Learning Diversity Leader.
We have students in Years 7 – 9 who require extensive support to manage physical incapacities and some very high needs students on the Autism Spectrum (also in Years 7 – 9), who require one on one assistance.
Applicants will require significant physical strength and agility to manage these students.
Applicants may also be required to push a wheelchair and must be physically capable of doing so.
The successful applicant will be required to work during the school term only and receives paid school holidays (Category B). Applicants interested in either a part time or full time role are encouraged to apply. Please note this is a 12 month contract role commencing as soon as possible.
Applications close by 4pm Wednesday 31 March 2021.
Food Technology & Science Teacher - APPLICATION FORM
Learning Assistant - APPLICATION FORM
Teaching Job Description
Download
As such all applications for employment at Emmaus College need to be aware of the following:
The Emmaus College Code of Conduct and Child Safety Policy.
That Emmaus College is committed to the safety, participation and empowerment of all children, including those with a disability.
That Emmaus College is committed to cultural safety, inclusion and empowerment of Aboriginal children, their families and communities.
That Emmaus College is committed to the safety, participation and empowerment of children from culturally and/or linguistically diverse backgrounds.
Be aware that appropriate rigorous reference and background checking will be undertaken, including a Working with Children Check and police record and identity check.
The Emmaus College community promotes the safety, wellbeing and inclusion of all children.