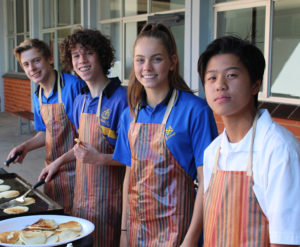 Pastoral care is the total climate of care arising out of the action taken by the College to promote and enhance student wellbeing. It can incorporate elements of a personal, social, physical, emotional or spiritual nature.
Key elements of student wellbeing are positive self-regard, respect for others, positive relationships, responsible behaviours and personal resilience.
Pastoral care provisions extend throughout the school day and are not confined to particular times and lessons.
Pastoral care, including a timetabled Pastoral Care Program, is facilitated by Pastoral Teachers, working in conjunction with their respective House Leaders. Staff work to ensure that the social, physical and spiritual needs of students are addressed.
Emmaus College practises and celebrates Christian values in a welcoming community. There is a promotion of quality interpersonal relationships, in an inclusive and safe environment. There is fostering of a sense of wellbeing and the preparation of students for engagement in civic and public life which involves community service and issues of social justice.
Pastoral care is ingrained in many aspects of Emmaus school life and includes the College Mission Statement and Wellbeing policies e.g. Working Together, A Fair Go For All, Drug and Medication Education and Support and Ethics for Use of Technology, student – student and student – teacher relationships established through daily teaching and learning activities, Health and Personal Development in the curriculum, Student Leadership and Peer Support Programs, access to College Counsellors to assist with parent and student concerns and many Community Service and Social Justice activities.