Year 9 at Emmaus College (Y9@E) addresses fundamental realities about late-Middle Years learners.
As students reach the end of the middle years of their secondary education, their learning needs change and so our Year 9 learning program is designed to ignite interests, inspire passions for learning and develop essential life skills in our students.
Young people in middle adolescence are transitioning from a parent-dependent childhood to an increasingly independent, and peer-dependent, young adulthood. Teaching and learning which embraces this, which connects meaningfully with their lives in the classroom and beyond, engages and energises students.
Y9@E offers our students a strong and rich pastoral and learning environment, where the development of the whole person is of pre-eminent importance.
Teaching and learning that is academically rigorous, with the goal of providing quality education for our students, is central to our endeavours. While our curriculum is grounded in the Victorian Curriculum there are a number of areas that offer the integration of subjects in exciting and innovative ways.
And by exploiting the full advantages of being a resident at our Y9-dedicated Burwood Campus, closer to inner-city Melbourne, our Y9@E Programmes offer Emmaus students wonderful opportunities for engaging in learning and development. 
---
What will my child be doing during Y9@E?
Study in environments and modes that are responsive to their diverse learning, social and emotional needs
Experience teaching and learning practices which are innovative, challenging, academically rigorous and which exploit the full potential of information and communication technologies
Engage with a rich learning community … in class and beyond
Connect with the wider local and Melbourne community
Explore Pathways for life after Year 9 and after Emmaus
Investigate real-world problems
Participate in intensive, off-campus learning opportunities
Undertake Inquiry-Based Learning
Actively contribute to their own learning, and reflect upon their learning in structured ways
Establish and build meaningful relationships with significant adults
Develop and nurture an identifiable, unique sense of self
Celebrate and be recognised for their achievements; through exhibitions, digital and bound portfolios and performances
---
The Elective Program
Students in Year 9 will study 3 elective units each Semester.
If students select a Language, they will study that language in each Semester, allowing them to select two other units each Semester.
Students may select no more than three Units from the one Learning Area.
Learning Area
Arts

Art
Dance
Drama & Theatre Studies
Media
Music (Performance & Sound Design)
Visual Communication Design

English

Literature (People have the Power)

Humanities

Business Edge
Archaeology (Can You Dig It?)

Languages

Indonesian
German
Italian (Applied Languages)

Science
Technology

Computing
Food
Robotics
Textiles
STEM

Physical Education

Health & Physical Education
Investigations & City Explore
Investigation is an inquiry-based subject that runs as a three-week block at the end of Term 2 and the beginning of Term 3.  In a self-directed context, students choose an issue in Melbourne to investigate.
Within Investigations is City Explore, a much-loved part of the Year 9 curriculum.  To gain inspiration and ideas for their projects, students explore significant cultural and historical sites Melbourne's CBD has to offer through a series of tours over three years – a selection of these are below:
| | |
| --- | --- |
| Shrine of Remembrance | Parliament House |
| Discover Melbourne Tour | National Gallery Victoria |
| Melbourne Cricket Ground | Street Art Tour |
| Old Melbourne Gaol | Chinese Museum |
Following the first phase of City Explore, students work in groups back in their classrooms to develop an open-ended investigative question and thorough plan. An additional two days are spent in Melbourne's CBD conducting investigations and gathering information (interviews, research, questionnaires, surveys). Groups then analyse their findings and present their response and recommendations on the issue in a creative and informative manner.
Throughout the program, students develop travel independence, investigative skills and knowledge of their city. Essentially, Melbourne's CBD becomes their classroom.

Mind & Body
As teenagers continue to develop an emerging sense of their own young adult identity, one of the most important ways we can help is to educate about the many facets of a healthy life.  The following units are covered in this wellbeing-based program:
Our Digital World
Drug & Alcohol Education
Nurturing Self-Image and Relationships
Resilience, Mindfulness, Study Skills and Transition skills into Year 10
Careers
Students develop their sense of self and strengths through the Year 9 Careers program.  This class runs one period a week throughout the year with students hearing from industry experts, completing surveys and quizzes and diving into subject selection equipped with the knowledge they require to make positive choices about their future studies.
Pathways
The Pathways program provides students with opportunities to take part in 'real life' experiences that are relevant and meaningful to their future goals. Supporting the Mind and Body and Careers classes in Term 3, students participate in the following:
Cover Letter, Resume writing and job interview skills
A 15-minute job interview, chaired by an external Human Relations professionals
Exposure to tertiary pathways
Year 9 Careers Day is attended by professionals from varied careers ranging from journalism, paramedicine and banking to building and construction.
Discovery Camps 
In Term 4, Year 9 students are involved in a five-day beyond-school Discovery experience designed to challenge them to move out of their comfort zone and develop a resilient approach to physically, emotionally and psychologically challenging situations.
Multiple Discovery Camps run at the same time and include varied activities such as sea kayaking, mountain bike riding, surfing, hospitality and sailing to name but a few.
The challenge begins when students are involved in the preparation and planning phase of the experience. Living interdependently with peers and being autonomous and responsible are also vital at this sensitive stage of their development.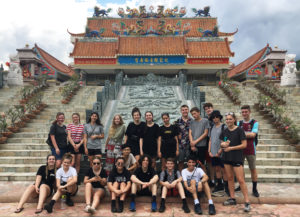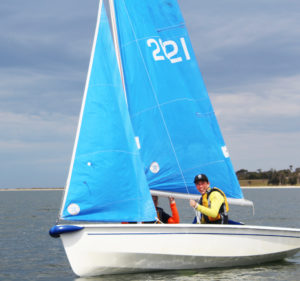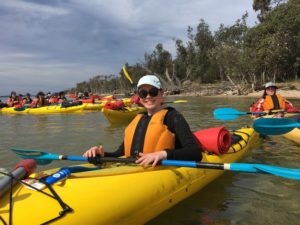 ---
Certificates Program
Student engagement in school thrives when students can connect their learning to the real world.  The Y9@E Certificates Program supports students in developing skills and experience while also gaining recognised certificates in the following short courses.
Customer Service
Cake Decorating
Soccer Refereeing
Level 1 First Aid
Soccer Coaching
Barista Training
Baking
AFL Coaching
Life-Saving Bronze Star
Basketball Coaching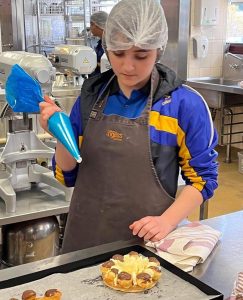 ---
Active Life, Duke of Edinburgh Award and EISM
Every Thursday afternoon, students participate in a Sports & Recreation program.  Students elect to undertake either Active Life or EISM competitive sport for the duration of Year 9.  Active Life students choose four activities, one per term.  Options include yoga, orienteering, lawn bowls, fitness and weights, martial arts, netball and many more.  EISM students try out for various sports across each of the three seasons.  Students can also choose to complete the internationally recognised Duke of Edinburgh Award.  Students considering this option must be motivated and ready to take on some challenges!